Having worked in the HR and Talent Management area for over 30 years the transformation, technology, analytics and business acumen associated with HR and people is one of my greatest professional passions. Outside of work my biggest passion is scuba diving, and I have been doing that for over 30 years and have been fortunate enough to have visited some of the top dive sites around the world to see amazing fish, coral, sponges and other critters the most people only get to see through David Attenborough. Several years ago I did a TEDX type talk at HRTech in Vegas, comparing diving to HR. Several people have asked if there is a recording of that presentation and sadly there is not. In this blog post, I will try to do the next best thing, re-write the story as I delivered it but with some new updated twists.
When you are a scuba diver, there are several important things that you learn, as part of your training and as you gain more experience. Some of these are: -
The buddy system
Buoyancy
Don't touch – some of the prettiest things under water are the deadliest
Plan the dive and dive the plan
Communicate – when you get to the surface tell the boat driver you are OK, tell your buddy how much air you have left, clear early communication saves lives (and arguments)
Just because someone has a lot of certificates it does not mean, they are a great diver
The captain of the dive boat is in charge
Social responsibility is critical, take back to the first world things like batteries and other things that third world countries do not know how to dispose of
Looking at this list, I can hear you say, "what does diving have to do with HR and Talent"? Let me draw out a few observations.
How companies approach onboarding new employees. In the diving world you are given your basic training (in my case PADI Open Water), then you have a buddy to help make sure your equipment is correct, there is air in your tank and to be there in the case of an emergency. With your buddy you should plan the dive and then dive the plan. Onboarding a new employee should have the same rigour. They get the basic new employee training, are assigned a coach/buddy and then given a plan for the first few weeks. And I know very few companies that do onboarding with the level of rigour. And in the diving world, getting it wrong can cost you your life while getting it wrong with a new hire can cost you money and create another turnover statistic.
Teamwork and communication – Diving requires excellent verbal and non-verbal communication skills. You and your buddy have to talk the same "language" when it comes to things like which direction you are going, how much air is left in the tank and when you need to come up to a more shallow level to no go into "deco". Without proper communication, the safety of the dive is compromised but also you could miss out on some amazing creatures that cruise past because there was not a clear set of the communication protocol between you and your buddy. On the job, teamwork and communication are equally important. As a team you need to make sure everyone is moving in the right direction, they know when to ask for help. The leader knows when it might be a good time to slow down and do a check to make sure everyone is on the same page. Without proper communication within the business or on a project, things can go wrong and the team will suffer.
Qualifications. As with anything that has a certification, diving has beginners to experts and even specialist skills like cave diving certifications. And just like work, just because someone has a lot of "acronyms" after their name does not mean that they are experts. The ability to dive in a safe manner that does not damage the coral or marine life is something that you can demonstrate, and every diver leader can tell, under water, who is good or not so good at diving, irrespective of the qualifications. Like a good project manager who knows if they have the right qualified people on their team, how people manage work as a team to deliver the objectives is far more important than having advanced qualifications in Agile or Prince Methodologies. Look for proficiency and evidence of the individual's ability to execute not just at the qualifications.
Don't touch. The things that are more likely to cause harm underwater, contrary to the movie Jaws, are not sharks, they are shells that have harpoons that contain poison that will kill you in less than 15 minutes, or jelly box fix that has a lethal sting. Both the shell and the box jellyfish are "pretty" – they make you want to touch them and pick them up while no one has ever said a shark was cute. Same with business, just because something looks harmless does not mean it can't cause significant damage. That link on an email that introduces a virus, the "too good to be true" sales pitches, or procurement deal that looks like it will save you tonnes of money. If it is "too pretty" it might also be "very lethal".
Box Jellyfish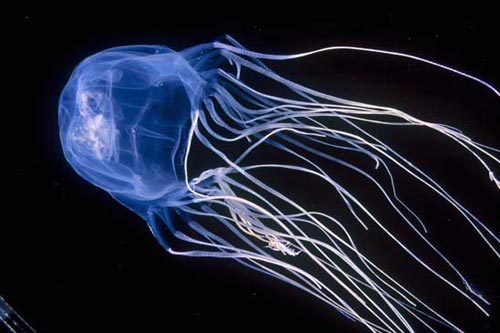 Who is in charge? In diving, it is very easy to determine who is in charge. If you do liveaboard's, it is the boat captain, if you do resorts it is the dive master. They are the ones that determine the conditions are safe enough to dive. In work, someone ultimately has to make the decisions. So knowing who is responsible for making the various decisions required to move a business forward is critical. Yes, there are people you have to consult or collaborate with but ultimately someone is in charge. Who will make the decision if it is safe for the business to take that direction?
And, on a personal note, it happens that many of the outsourced and captive shared service centres are in great diving locations. Costa Rica, Philippines, Fiji, Malaysia and Indonesia to name a few of the countries which have attracted organisations from IBM, Convergys, Aon Hewitt, Rio, ANZ Bank and others to build HR delivery locations.
As you can see there is a lot of similarity between diving and business and therefore HR and people. And on a personal note, the more people know about the water, the fish and other coral or marine life the better we all will be. As like talent in any organisation, these things are a scarce resource and need to be treated with the same level of care as you would treat one of your high performing employees.
Article and Pictures by Mary Sue Rogers