Volatile, Uncertain, Complex and Ambitious – these four words describe some of the challenges that modern HR is facing. From the blurring of work and life, multi-tasking on everything, a culture that needs to support different levels of diversity, and competitors that come out of nowhere to challenge your business model. HR needs to support the organisation in building the right talent to tackle these changes.
In a recently published article by Sahana Chattopadhyay in People Matters there is a very good summary of the three trends that HR Professionals need to be aware.
Extended Enterprise - Employees are no longer a homogenous set of people. Contractors, consultants, partners, vendors, customers and competitors are coming together to get the work done. Therefore, organizations that support communities consisting of this extended enterprise stand to benefit in multiple ways like improved agility, diversity of thought and greater innovation capabilities and increased level of trust among different stakeholders.
Enterprise Social Networks (ESNs) - Organizations are becoming increasingly distributed, diverse, and digital. Employees today expect to be able to work from anywhere, anytime, and from any device. ESNs, once thought of as a "good-to-have" have transformed into "must-haves" to keep this distributed workforce connected, to enable seamless sharing of explicit and tacit knowledge, and to facilitate conversations across geographies, business units, and domains -- a critical component of the future of work. HR must don the mantle of collaboration enablers and community managers to build connected enterprises.
Communities of Practices - Organizations today work across domains and areas of expertise. It is no longer possible for an individual or a small team of people to find solutions to complex problems, exceptions and challenges that businesses are facing today. Practitioners come together in these communities to share the latest and the best, to find innovative solutions and contribute to the growth of the domain. Individuals join communities voluntarily when they see value and can evolve both professionally and personally.
Along with a really good graphic that pulls together many of the themes regarding changes in the workforce and the workplace.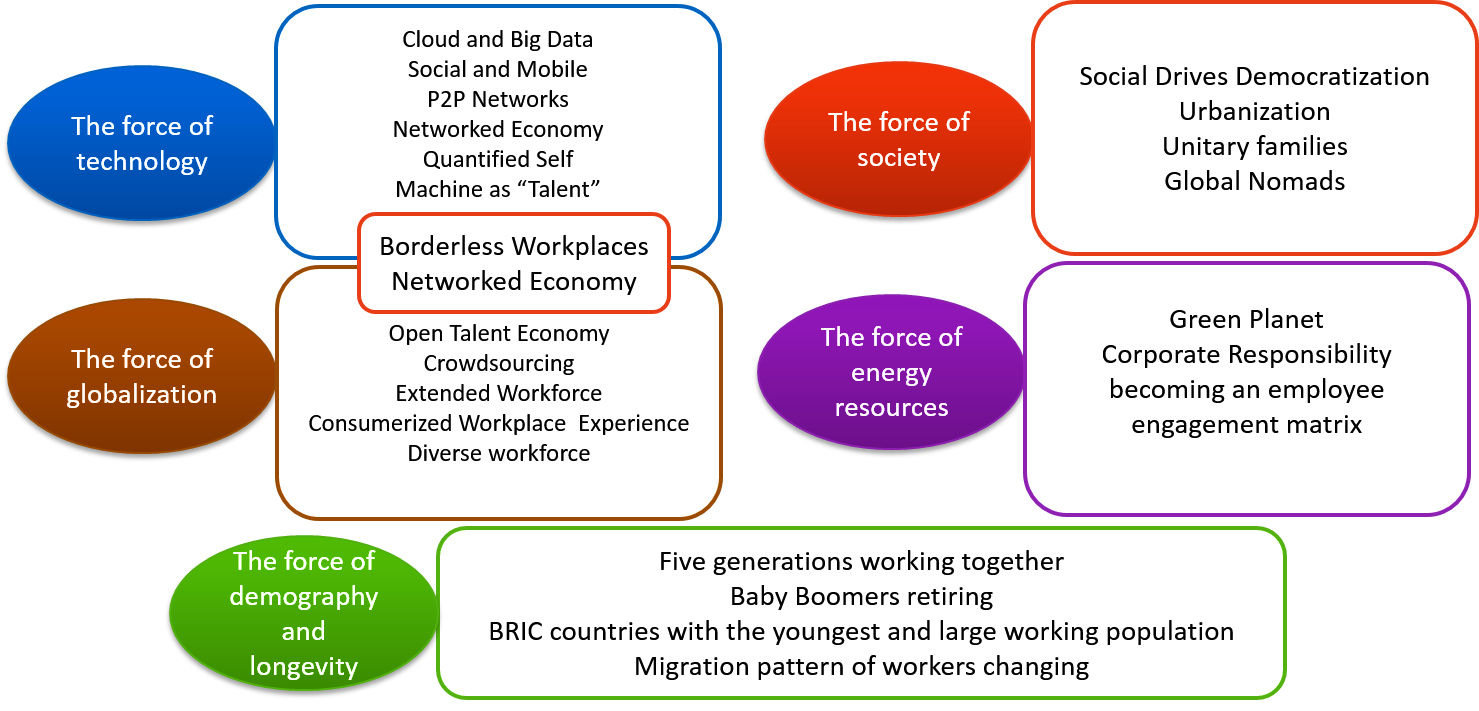 Mary Sue Rogers